Wetland Aspect
Wetland Aspect
Rehabilitation Zone
Stage
2
Soundtrack
Nocturnal Emission

---

Lunar Seer Quote
You dream of twisting roots.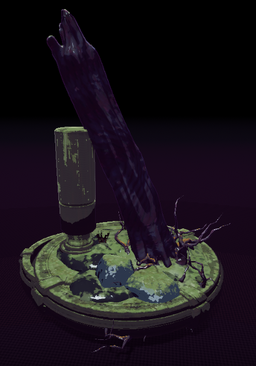 The Wetland Aspect is a moist mire found on Petrichor V and is part of the second set of Environments encountered in Risk of Rain 2. It consists mostly of ruined stone structures and swampy areas filled with water.
The Altar to N'Kuhana is a secret area in the Wetland Aspect Environment.
The challenge Her Concepts is completed in this environment. Under the cliff on the map, there is a gap where the player can enter which leads through a tunnel to the Altar to N'kuhana. The Altar to N'Kuhana consists of a large hole with a yellow skeleton dangling above it. Destroying the skeleton will complete the challenge unlocking

N'kuhana's Opinion


Fire haunting skulls when healed.
Store 100% (+100% per stack) of healing as Soul Energy. After your Soul Energy reaches 10% of your maximum health, fire a skull that deals 250% of your Soul Energy as damage..
Jumping into the pit below the skeleton will teleport the player back to the normal map area.
The Newt Altars can spawn in several locations of the Wetland Aspect.
In the deep water behind the smaller, large wall.
Atop of the non-branch covered pillar near the center of the map.
Behind a rock at the very end of the cliffside overlooking the map.

Normally accessible though a geyser behind a sometimes destroyed wall.
Welcome to DataScraper (v3.1.53 – beta branch)
$ Scraping memory... done.
$ Resolving... done.
$ Combing for relevant data... done.
Complete!
Outputting local audio transcriptions...




Yeah, I had to. I had no choice. Marion knew - and she was always so much stronger. So much stronger than all of us.

And it worked, it really did! Marion saved all of us. The dagger - it saved Pugh and Larsen and Dillon. Carney and Stevens.

But Pugh saw - he saw and he didn't understand. How could he? I tried to tell him - I ran over to him. But I couldn't convince him otherwise, and he was so crazy - so crazy! He wouldn't shut up and the golems were coming and the dagger - there was no choice.

Everyone was real somber that night. We lost Hitchcock and Marion and Pugh. Real somber. Later on, Carney found the book from a nearby chest. And it really all made sense - it did! I knew why Marion had that dagger and why I had to be the one to kill her. And Carney? He was too strong. I couldn't risk him not understanding. He wouldn't understand.

But Carney was big. Everyone else would've known. So that night, after I killed him, I went and took his body to the Altar. And I hid the Altar - right at the edge of the cliff, between two clusters of roots, in a cave underneath. And in that cave... I worshipped Her Concepts.

The rest? Well, they were so old and so tired. They were just gifts for N'kuhana. And She loved them. 

Weshan.



Local audio transcriptions complete.

The internal development name for Wetland Aspect is Foggy Swamp.[1]